A story of three generations, 'Hope Aur Hum' is a movie that brings along three different perspectives towards life. We wanted the audience to engage in this beautiful film. Hence, we decided to come up with contests, activities and song launches that'd be infused with the same values.
Meri Hopeful Family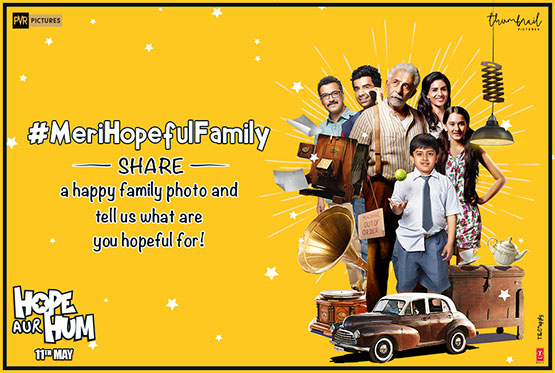 We started the month of May with the #MeriHopefulFamily contest, which was all about connecting the emotion of 'hope' with the real-life experiences and values of our audiences. The contest involved asking users to share a picture of their family, along with the one thing they are hopeful for. We got to a reach of 100.5 K with a really good engagement.
Anokha Antique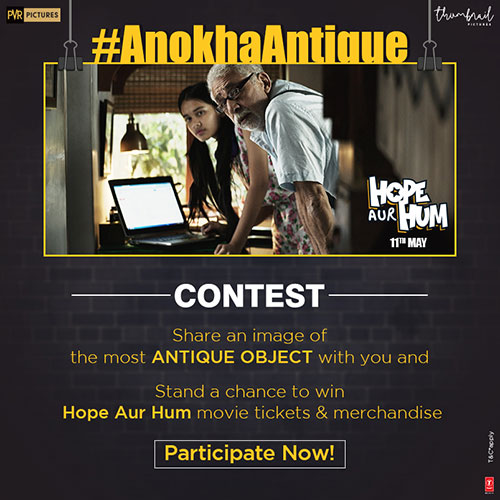 The #AnokaAntique contest was all about sharing memories of the oldest yet most memorable objects that you have an emotional connect with. To initiate the contest, Naseeruddin Shah shared a picture of his grandmother's paan-daan, while Sonali Kulkarni shared the picture of a wooden ladle passed on to her by her mother.
This contest was all about connecting the audience to the emotional values that the character of Naseeruddin Shah aka Sr. Srivastava had in the movie for his very old friend, a German machine called Mr. Soennecken.
Acche Bacche Rote Nahin
To effectuate a direct recall of those good old childhood days, we launched the 'Acche Bacche Rote Nahin' song on social media. Sung by Sonu Nigam, written by Saurabh Dixit with music by Rupert Fernandes, this song got immense love from the audience.
Aye Zindagi
Next, we did a Facebook LIVE that involved a musical jam session of the song 'Aye Zindagi' with Shaan, Rupert Fernandes and Saurabh Dixit, along with the director Sudip Bandyopadhyay. This turned out to be a fun session. Post the LIVE, the song was released by T-Series and then cross-posted on all platforms.
We used different dialogue promos and lyricals from the songs released so as to keep the audience engaged. After all the songs were released and the contests came to an end, it was May 10, which was the day of the promotional screening of 'Hope Aur Hum'. We did LIVE tweeting and a Facebook LIVE from the venue itself. A day after that, the movie was released and sustenance posts and review- management was done for two weeks thereafter.
The audience of 'Hope Aur Hum' connected with the message that the movie gave. People gave positive responses about the movie on various booking portals. In all, the movie had a positive response from the audience.