An internationally mounted saga of a family that deals in borderline crime, Race 3 is ruthless and vindictive to the core. A world with twists and turns at every nook and corner, this film is sure to take the audience by surprise with its sheer unpredictability.
For this film, the month of May ended with a rush of adrenaline as the 'Race 3' trailer crossed 20+ million views in less than 24 hours of its launch. Excited about this film, here's what we pulled off!
Poster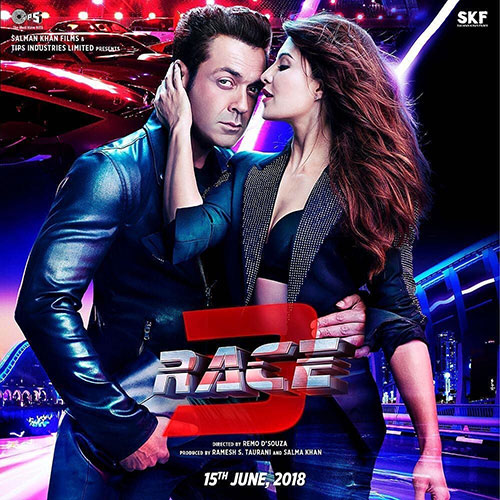 We launched a poster starring the Jacqueline and Bobby on 7th May. This was followed by an action poster of the film on 10th May.
#CrackTheCode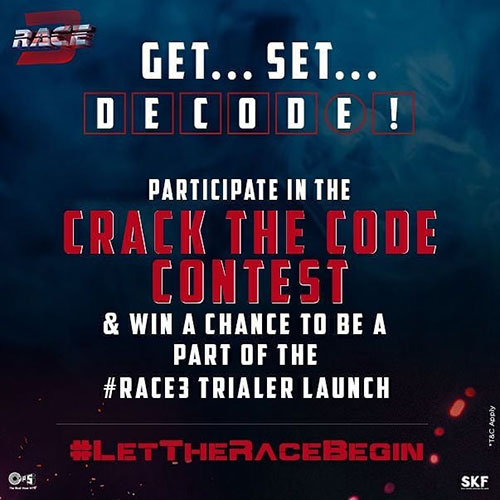 The trailer launch of 'Race 3' had to be as awesome as possible. To ensure that, a trailer launch event was already taking place. From our end, we wanted to choose who got to attend it!
So, we launched the #CrackTheCode contest on Facebook, Twitter and Instagram. It involved the users decoding certain aspects of the movie and received 250+ entries. We launched the contest through a Facebook album and the top 100 contestants who cracked the code correctly got to get a 'plus one' and attend the trailer launch along with the cast of 'Race 3'.
Trailer
We wanted to launch the 'Race 3' trailer with the necessary swag. Hence, for the very first time in India, we launched a 360-degree LIVE trailer launch event. The concept was highly appreciated by influencers & media and gained a lot of recognition all over. The winners who attended the trailer launch with their 'plus ones' also showed a lot of love and enthusiasm.
We covered the whole trailer launch with the media and the fans, and we also went LIVE on Facebook and Twitter during the launch. The Facebook LIVE received over 5.5 K views and the Twitter LIVE received 3.4 K views.
Finally, when we actually launched the trailer on May 15th, it kissed the heights. It was trending at #1 on YouTube, Twitter and Facebook, and it crossed 20+ million views in less than 24 hours.
Heeriye
'Heeriye' is the super happening song that you listen to and simply want to dance. We launched the song on 18th May. Salman and Jacqueline's sizzling chemistry in the song set the charts on fire!
#DanceToHeeriye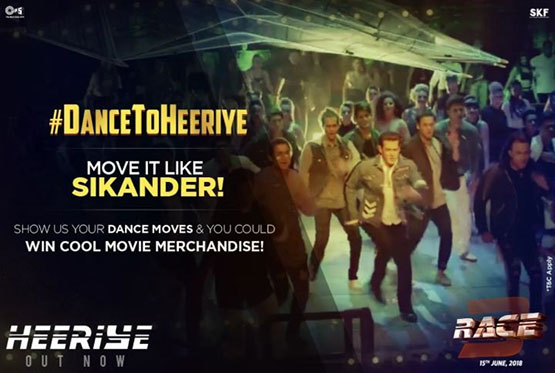 To engage Salman Khan fans, we launched a contest called #DanceToHeeriye on Facebook, Twitter and Instagram. Here, we asked the audience to show their love and share their dance videos on the hook step of the song. The contest received 200+ entries and the Top 10 winners were gratified with Race 3 merchandise.
Selfish
We moved on to launch 'Selfish' on 25th May. Salman Khan had himself penned down the lyrics of this song, and it received the necessary appreciation from the audience. We also posted the making videos across platforms.