Raymond UCO Denim is a leading denim manufacturer. The brand has two facilities for its operations to function. The Yavatmal plant is engaged in fabric manufacturing while the Bengaluru unit is engaged in garmenting. Given the geographically diverse locations, the brand required a serious digital presence that could be accessible from desktops, tablets as well as phones.
Objective
To bring more utility to the online platform for the target audience.
To enrich the overall user experience through design and ease of navigation.
To position the brand as the global denim manufacturing brand.

Strategy
As one of our chief goals was to position the brand internationally, we decided to add elements of denims throughout the website. We also decided come up with a systematic manner of structuring the website.
Execution
In line with our strategy, we created a dynamic website using the latest technologies, giving it an unconventional feel. We did not follow specific placement patterns for the design and employed a fluid layout for the overall development. For the denim feel to strike across, we put in denim-textured images in a disorderly sequence.
To enhance the focus on the imagery and the content of the website, we purposefully used a bright white background. For the imagery and overall visual assets of the website, our team personally visited Raymond's units and executed a detailed photography and videography session for the website.
For the website to be more organized content-wise, we created a robust & scalable content management system to highlight the brand's plants, products & innovations, all in a visually pleasing manner. We also made the website responsive across all platforms, that is, desktops, tablets and phones so the users would be able to access it through any of these devices.
Look & Feel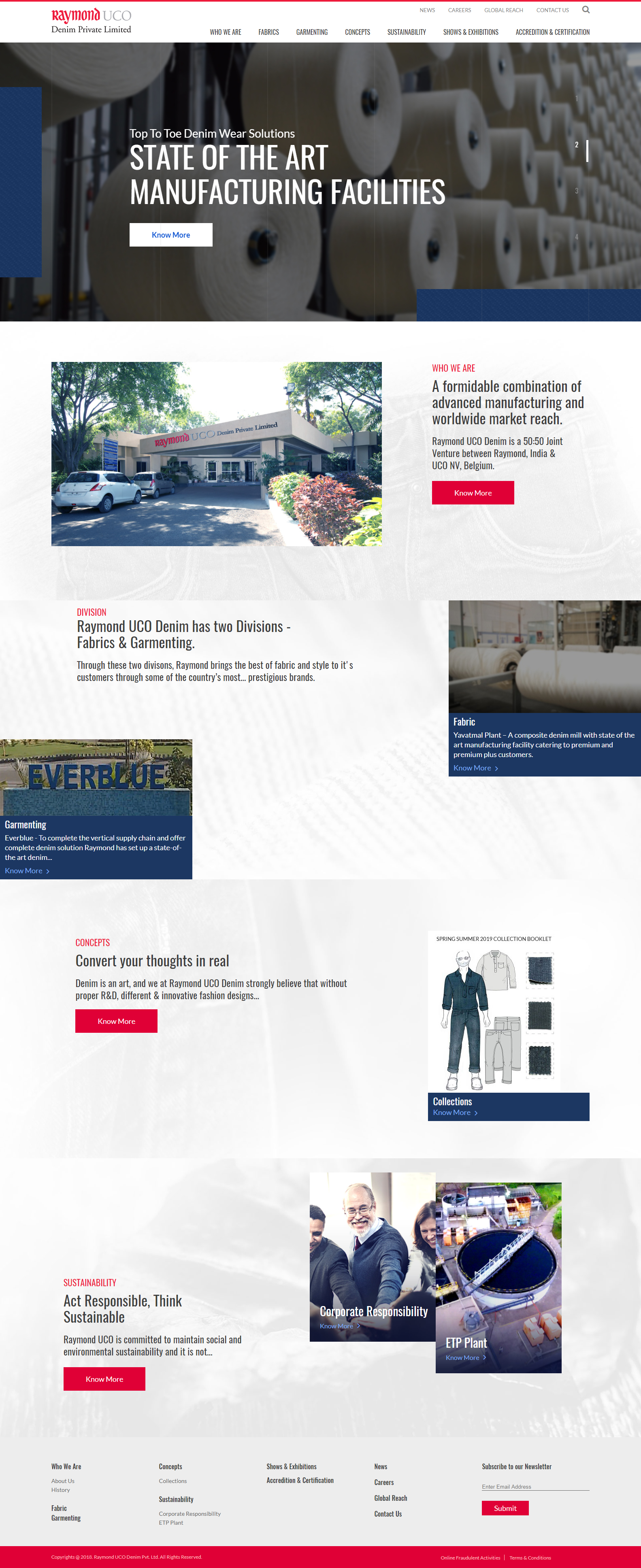 Results
The unconventional design of the website gave it an edgy denim feel that helped enhance the international positioning we were aiming for.
Being a content-driven website, our easy navigation system and responsive layout helped users to access any information they wanted easily.
This website has helped in establishing the brand's legacy in India as well as in the international market.

You can check out the new website by clicking here!