Wai Wai City is India's first QSR noodle bar concept, brought together by CG Corp Global, the multinational conglomerate behind one of the most iconic noodle brands – Wai Wai Noodles.
In order to bring the brand closer to FIFA lovers, we created a campaign based on FIFA Championship of this year. Under the campaign, we pushed 3 ideas as mentioned below.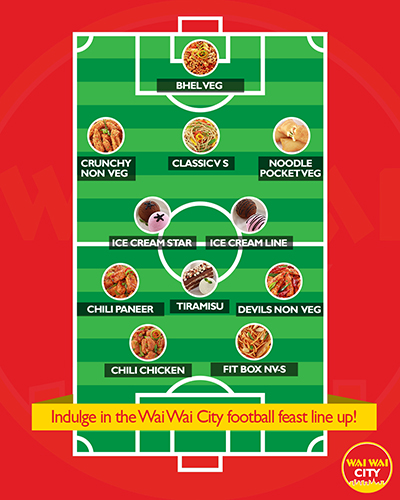 Lineup
As football is all about the formation, strategy and the lineup of the best players of that team, Wai Wai City hosted the lineup of the best taste in town.
Red Card
Another important element from football is the 'Red Card'. The referee pulls out the red card and sends the foul player right out of the game. We related this with 'Wai Wai City' and pulled out the red card to hunger by serving delicious Wai Wai City food!
Food Delivery
Under this, we incorporated the aspect of watching and enjoying the game at home while eating delicious Wai Wai City food delivered by our delivery partners – Swiggy and Zomato.
Overall, this FIFA-based campaign received good engagement on social media. On Instagram, we used trending hashtags like #FIFAWorldCup, #Football etc., which got us more followers.