'October' is a slice-of- life love story with a twist that says a lot without saying too much. We wanted to get the viewers into a mood where they can experience such a kind of love. Here's a look at what we pulled off!
#ExperienceOctober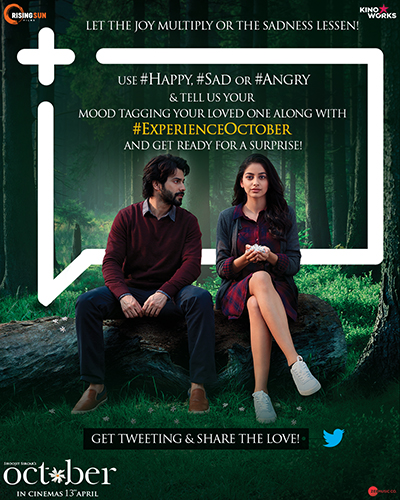 We started the pre-launch activity called #ExperienceOctober, which was a Twitter-driven activity focused on getting the audience to feel the emotions of October. We asked people to tweet with #ExperienceOctober along with the emotions they felt like #Happy, #Sad & #Angry. They were also encouraged to tag their loved ones in their tweets. We received a tremendous response for this; more than 6000 messages were received and over 4000 replies were sent out during the execution of the activity. In fact, all the people who took part in this activity got a special reply from the October movie page with some replies having an audio message from Shiuli aka Banita Sandhu.
#ForeverOctober
There is an invisible character in the film who's played a vital role in giving a strong sense of atmospherics. To give the feel of this character, we created a special AR filter on Facebook that could be accessed through the phone. People were asked to spread October love with their friends by sharing their photo with this filter anytime, anywhere. This activity got us approbation from the media industry as well as from a niche audience.
Manwaa
We also released the new song of October, Manwaa. This classical-based composition is sure to leave you asking for more. It is a calm and composed song with meaningful lyrics. This song portrays the sorrow of Shiuli & Dan beautifully.
Making Videos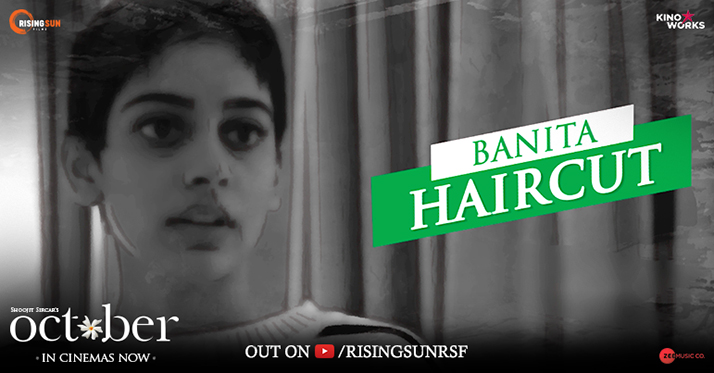 There is great sadness at the heart of October as it bears the tragic love story of Danish Walia and Shiuli. Keeping this narrative in mind, we posted making videos of the film. The one that blew through the roof was the one where Shiuli aka Banita Sandhu cut her long hair really short. It highlights her commitment to her role.
Overall, October is an unusual romantic tale that explores the kind of love that comes without any expectations. We have digitally captured the right essence of the film and set the winter love of October in the month of April on social media.