India's 2nd biggest automobile brand, Hyundai, truly believes in servicing its customers fully. For this, it has 490 dealers and more than 1,293 service points across India. Apart from the actual service it provides, the brand also has active social media pages, and recently, it reached the considerable target of hitting 10 million likes on Facebook.
While we were actively involved in making this target a reality, we also played a major part in helping the brand celebrate this achievement.
Objective
To celebrate the big achievement of hitting 10 million on Facebook and get noticed for this rare achievement on social media.
Strategy
Here, our main strategy was to utilize the brand ambassador Shah Rukh Khan's star power to pull the audience. We wanted to create a technology framework for users to get a personalized experience of Hyundai and provide them with an opportunity to experience the same over and over again as many times as they wished.
Execution
To turn our vision into reality, we executed the '10 Million Facebook Milestone' campaign using technological innovations.
A video was posted with SRK and the users were asked to comment on it. As soon as the users commented on the video, they received a customized video from SRK wherein, their names would be mentioned and a message would appear, thanking the user. Further, each video had SRK's signature along with the message.
Here are examples of how it looked online: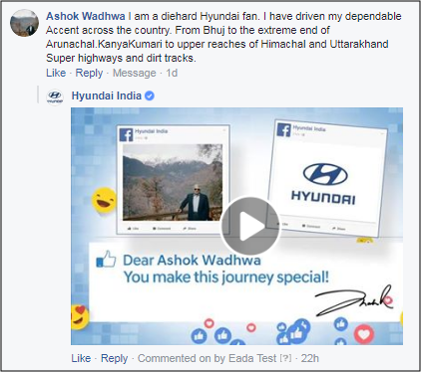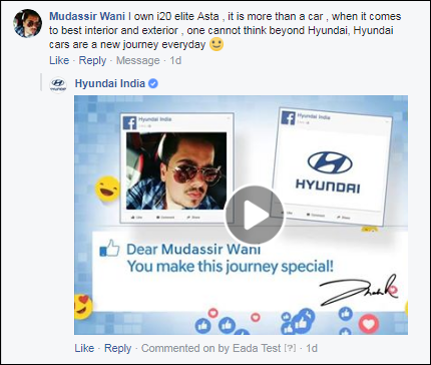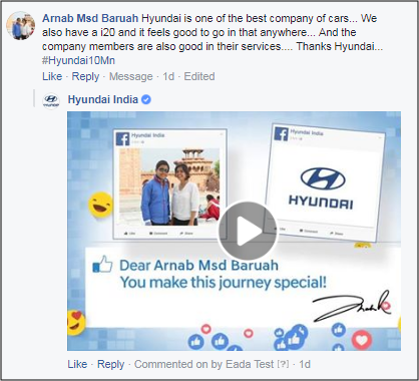 Click here to watch the video!
As per our ORM process, enquiries regarding sales and services were also answered. Customizing our engagement activity for all users definitely enhanced the brand's reputation, both online as well as offline.
Results
For this video, we got a total of 78,886 Likes and 1,104 shares on Facebook. The number of comments we received were 3,825 and about 81,000 post clicks. Overall, we got about 3.06 million views and a total reach of 12.9 million.
Kudos to Hyundai and the many more milestones it is set to achieve!