Having been associated with various social awareness programs in the past, Rahul Bose is known to be a passionate philanthropist. This year, he started a non-profit organization 'HEAL' under the umbrella of 'The Foundation'. HEAL stands for Help Eradicate Abuse through Learning and works to eliminate sexual abuse against children. We had the chance to contribute to this cause by helping HEAL to create awareness about their launch as an organization.
Our objectives for #HEALfromCSA
To create awareness about 'HEAL' and its initiative against child sexual abuse

To create engagement around the cause of child sexual abuse by engaging with Rahul Bose and other influencers
How we did it?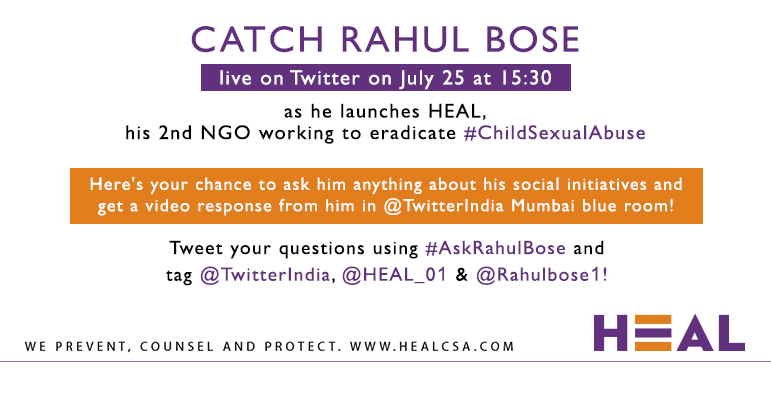 Phase 1 – Buildup
Teaser Posts:
We put up 4 creatives on Facebook and Twitter to launch the #HEALfromCSA campaign on the day of the launch, to give insights into the evils of Child Sexual Abuse.

#AskRahulBose Announcement:
We announced the #AskRahulBose activity at the Twitter India Blue Room on the launch day, to invite participation of the audience engaging with the HEAL handle on Twitter.

Twitter Live Session:
A twitter live Q & A session was conducted for the launch of #HEALfromCSA. The session saw Rahul Bose along with Vidya Balan, the Chief Guest of the inauguration, addressing the issue of 'Child Sexual Abuse'. This boosted the launch because of the presence of a strong influencer.

Influencer Engagement:
Post the launch event, we had influencers across the Bollywood fraternity who were extending their support for HEAL in the fight against child sexual abuse. Notable celebrity influencers like Karan Johar, Kalki Koechlin, Anil Kumble, Tanuj Garg, Konkona Sen Sharma, Atul Kasbekar, MissMalini, Shabana Azmi, Box Office India, Shashi Tharoor and Kailash Satyarthi. We were interacting with the influencers via the HEAL Twitter handle.
Phase 2 – #AskRahulBose
To create awareness and engagement about #AskRahulBose activity, we engaged with our network of influencers to create interaction with Rahul Bose during his Twitter India Blue Room chat

Twitter users tweeted their questions using the hashtag '#AskRahulBose'
Phase 3 – Fact Creatives
To highlight the gravity of the issue of 'Child Sexual Abuse', a set of hard-hitting creatives (Facts and Myth v/s Reality format) were designed to address the issue at hand

This was posted across both the Facebook and Twitter handles of HEAL, with the hashtag #HEALfromCSA and a link to the website
What we achieved?
The follower base increased considerably during the span of the activity, where the Facebook base grew by 50 likes and the Twitter base grew more than double by 190 followers

The influencer activity on Twitter during the launch day led to organic conversations about Child Sexual Abuse and HEAL, that resulted in great reach and even engagement. The hashtag #ChildSexualAbuse was trending on Twitter at the night of 25th July 2017